Quick Restaurant Menu plugin allows you to create quickly menus for eateries, cafes, bars and restaurants. You can include images, descriptions, sizes and images.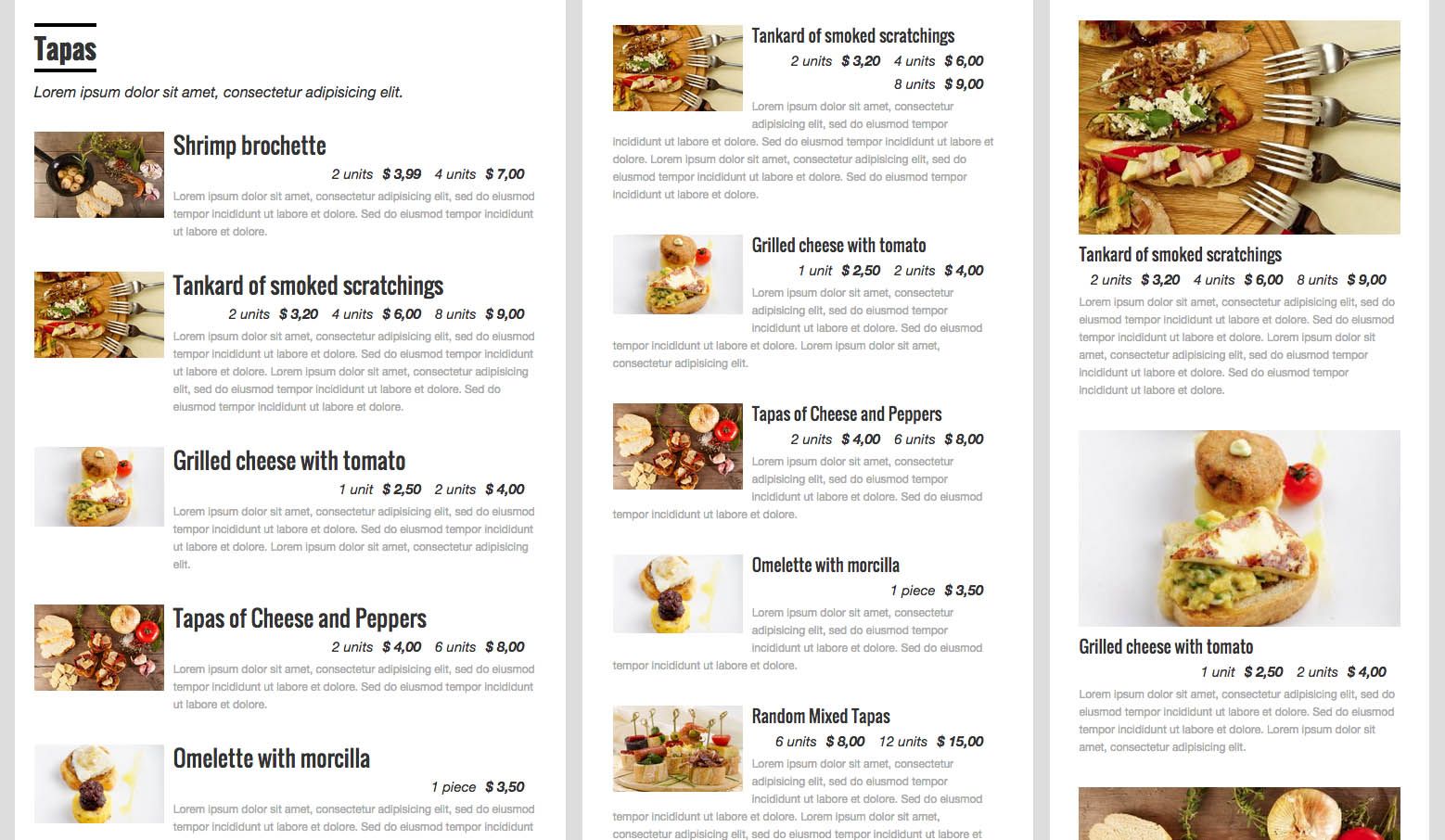 Display different menus for each day of the week and also for different hours in the same day. Suppose for example you want to display a menu for lunch and another one for diner, then depending on the hour the visitor access your website it will show a different menu.
The plugin uses default WordPress functionality. Creates two new post types, Menus and Menu Items, which are used to construct the menu. You can create and edit menu items inside the menu post interface, rearrange them with drag and drop, and group them into sections. Then use a shortcode to display it in posts and pages.
Drag & Drop builder
This handy feature lets you create and move your menu items in a very easy way. Each menu item is editable inside a popup window with title, image, description & prices.
Layout with columns & sections
Create up to 3 columns and group your menu items in sections inside. Manage also different rows with dropdowns for displaying several menus in the same page.
Several prices
There are no limitations when it comes to distributing your digital products. Allow customers to download their purchased files endlessly or restrict file downloads by time and/or attempt.
Food tags & Nutrient Facts
Create your own food tags and manage a complete set of nutrient facts for each meanu item. Display all features in a popup window.
Weekly menus
Display different menus based on specific day/time of the week. You can show for instance a daily menu and a weekend menu in the same page.
Customization
Use WordPress customizer to quickly change the style of your menu: colors, font-family, font-size, margins, alignment, etc.
Lightbox
Display a full-width picture when user clicks the thumbnail of the menu item.
Share menu items
Let your customers share your menu items in Facebook, Twitter, Googl-plus, Linkedin ans Pinterest.
FREE VERSION
Unlimited menus and items
Menu sections
Add header and footer to each menu
Menu items with picture, description, sizes and prices
Responsive menu layout for mobile viewing
Variable menu depending on the week day and the hour
Drag and drop interface
Insert custom CSS
PRO VERSION
Not only Sections, organize your menu with Rows & Columns
Powerful Drag & Drop builder
Copy / clone menu items from inside the menu
Add menu items on the fly from a searchable list
Add list with prices with title, normal price and sale price
Add nutrition facts and diet tags to each menu item
Display with different layouts: expanded, dropdown, horizontal tabbed, vertical tabbed
Lightbox with pictures
Popup with menu item details
Each menu item has it's own page and is searchable
Share your menu items in facebook, google-plus, twitter, pinterest and linkedin
Customize your menus with lots of options
Select colors and font families
Image resolution and size
Images with subtle shadow
Font size, line heights and margins